Bristol Computer Support Ltd is perfectly placed just 2 minutes from Cotham. Our engineers are on the doorstep of any Cotham based businesses or homes requiring computer support. We offer local support to businesses. Cotham is home to some very large old buildings. We specialise in supplying WiFi solutions that will deliver the internet service where you need it most.
Cotham is full of small businesses and shops, of which BCS is just one. We always prefer to keep our needs local and hope local businesses will also do the same. If you need computer help, or want a quote for some hardware or software, we can supply it! BCS is part of a larger networking group called the YouandI Business Club, meeting twice a month in the centre of Bristol. We share leads and advice during our breakfast meetings.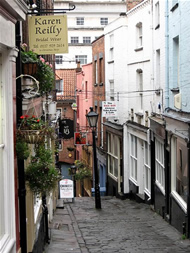 Image of Christmas Steps in Cotham. Several privately owned shops and businesses exist in the Cotham area.